Yuba River Rafting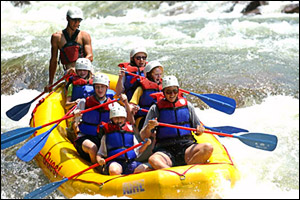 The Yuba River sparkles and romps through a beautiful forested canyon right past Shangri-La. The river is ideal for active first timers and also has sections for experienced rafters. "The North Fork of the Yuba River is a classic. The combination of unimpeded flow, excellent rapids, beautiful scenery, plentiful camping and the quaint little town of Downieville all add up to a super river." A Guide to the Best Whitewater in the State of California, Lars Holbek & Chuck Stanley.
Beyond Limits Adventures in Coloma, California features a full range of fabulous all-inclusive river trips on the Yuba and other great rivers throughout California.
Tributary Whitewater Tours in Grass Valley, California offers the largest variety of river trips in Northern California, from warm weather day runs to 2 and 3 day outings fully equipped and catered.